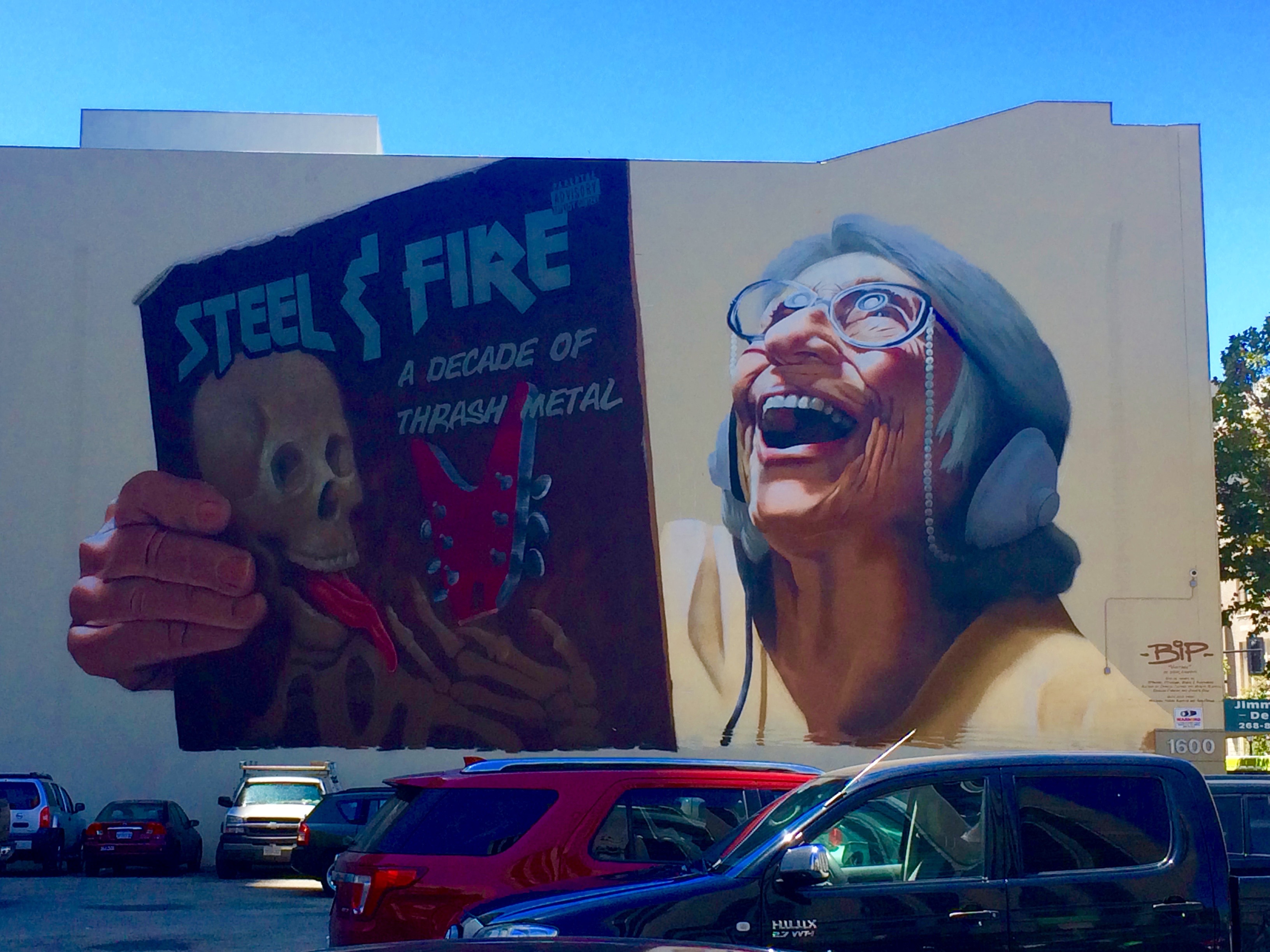 Don't miss the colorful and vibrant street art around Oakland!
By Aarti Kanodia   Posted on 15 August, 2016
I have visited San Francisco dozens of times over the past decade and fell in love with the city. But I found myself in the same routine over the over again – walking down Lombard Street, eating burritos in the Mission District, wandering through the farmer's market at the Ferry Building and taking day trips through NAPA. I needed a change in my culinary ventures and wanted to experience something different. I love the hustle and bustle of big cities and lived in Manhattan for a while – but only just started exploring its "kid sister" – Brooklyn. I had read that Oakland had a similar reputation compared with San Francisco and was fast becoming a hot destination for travelers. Lonely Planet ranked Oakland #8 on its list of Best In the US 2015 and it was even ranked #5 by the New York Times in The 45 Places to Go in 2012. It was finally time to see what all the hype is about!
Disclaimer: Locals dislike when you call Oakland a little kid and compare it to Brooklyn or Queens – but I'm taking my chances!
Getting to Oakland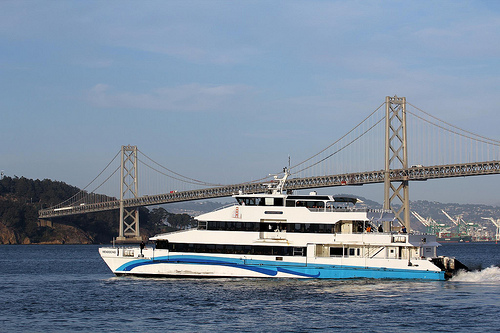 Ferry from San Francisco to Oakland
Like the boroughs of New York City the East Bay can feel like it's cumbersome to get to especially for someone from out of town. However, there are several (easy!) ways to get to Oakland which locals told me about:
BART (Bay Area Rapid Transit) Map/Schedule: This is the fastest way to get to Oakland from San Francisco and helps avoid all the traffic especially during rush hour. You can catch the BART in San Francisco and take it to several stations in Oakland including 12th Street Oakland City Center, 19th Street Oakland, Lake Merritt Station and Rockridge station. By taking the BART you could be in Oakland in under 15 minutes depending on what station you leave/arrive at and at a cost under $4 one way.

San Francisco Bay Ferry Service/Routes (the easiest way!): This is my favorite way to get to Oakland because of the stunning views of the bay. The ferry is clean and offers outdoor and indoor seating (with charging stations!) as well as beverages for purchase (including beer). You can catch the ferry from San Francisco's Ferry Building and take it to Jack London Square (one of the popular entertainment and business destinations in Oakland, California) for $6.60 one way and purchase tickets on the ferry itself. The six times I took it, the ferry was always on time and took about 30 minutes. Its also 10 degrees warmer in Oakland than in San Francisco and it starts to warm up even on the water! A ferry ride to Oakland is also a fun outing for kids.

Drive: Driving to Oakland is easy but traffic out of and into San Francisco can be a challenge. From Pacific Heights to downtown Oakland CA it took about 45 minutes in some traffic and there is a tollbooth. Finding parking can take time on weekends but we found metered parking downtown and by Jack London Square after 10 minutes of searching on a Sunday.

Uber/Lyft/other rideshare: This might be one of the more convenient ways but take traffic into account – it might be more expensive and not necessarily faster.
A Culinary Adventure Tour Begins!
Oakland, California is ethnically diverse and boasts some of the best food in the Bay Area. Everything from Thai to Italian to Indian (Ghazal and Mehak) to African cuisine all thrive here and more innovative restaurants are popping up in favor of less expensive rents vs. San Francisco. The dining scene is also diverse in that you can have a Michelin starred fine dining meal at Commis one day and the next day hunt down the best fried chicken at a hole-in-the-wall soul food joint. Here is a run down of where I ate and where you should too!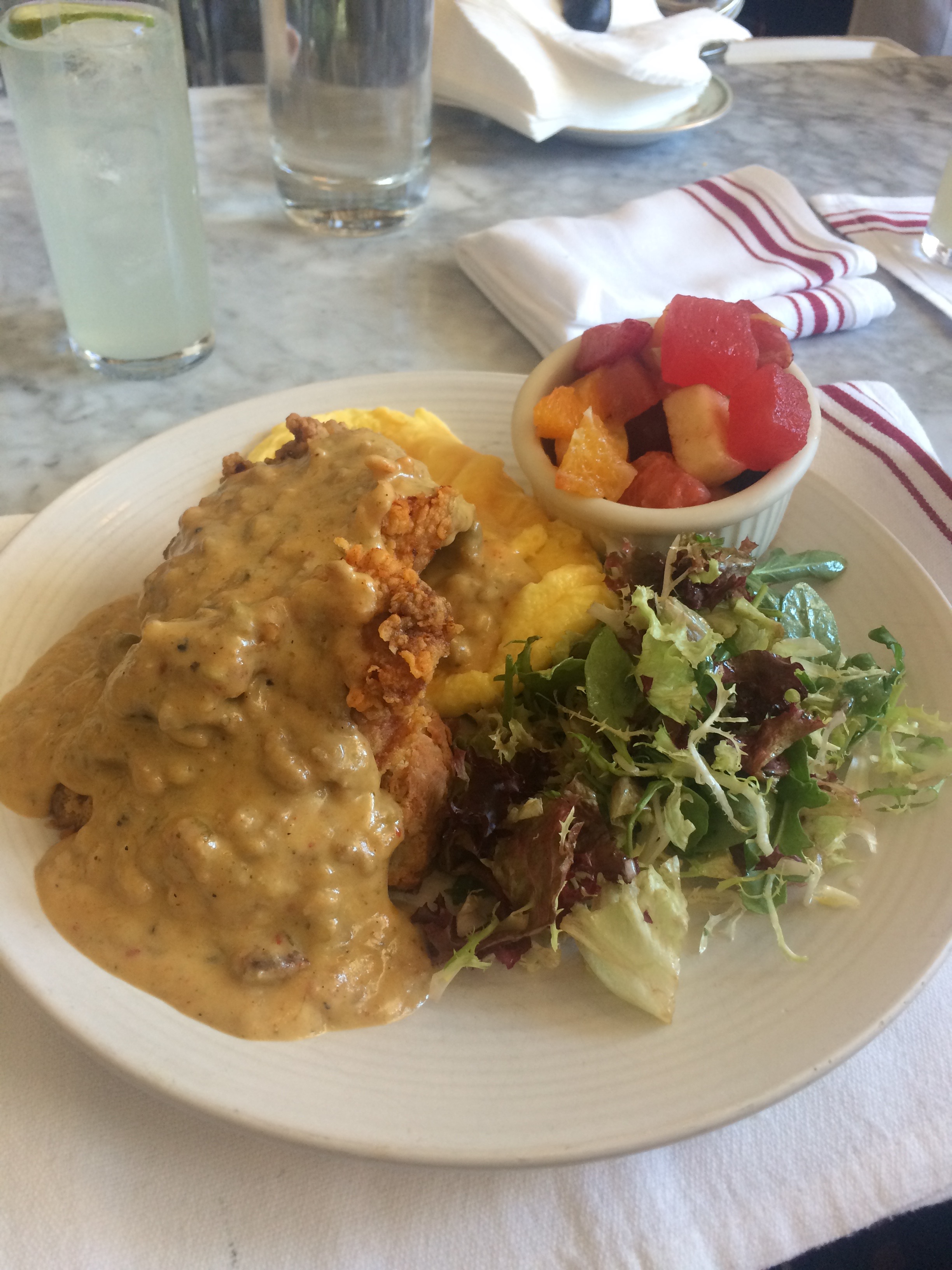 Buttermilk fried chicken and biscuits from Hopscotch, Oakland
Hopscotch Restaurant, Downtown Oakland
Located on San Pablo Ave. this modern "diner" is one part soul food with its mouthwatering fried chicken and one part Japanese fusion with its braised pork belly benedict with yuzu hollandaise and other offerings. Hopscotch is definitely one place the locals love to go and it is especially popular with the brunch set. The food is out of this world and I thoroughly enjoyed every bite of my buttermilk fried chicken & biscuit with pork gravy and scrambled eggs. The gravy was perfectly savory and didn't overpower the crispy chicken, juicy on the inside. My brother ordered the kimchee fried rice with shoyu eggs and pork belly. I never thought a restaurant could be spot on with both its soul food and Japanese inspired dishes but Hopscotch delivered! Insider tip: wear stretchy pants – you will want to eat every last bite!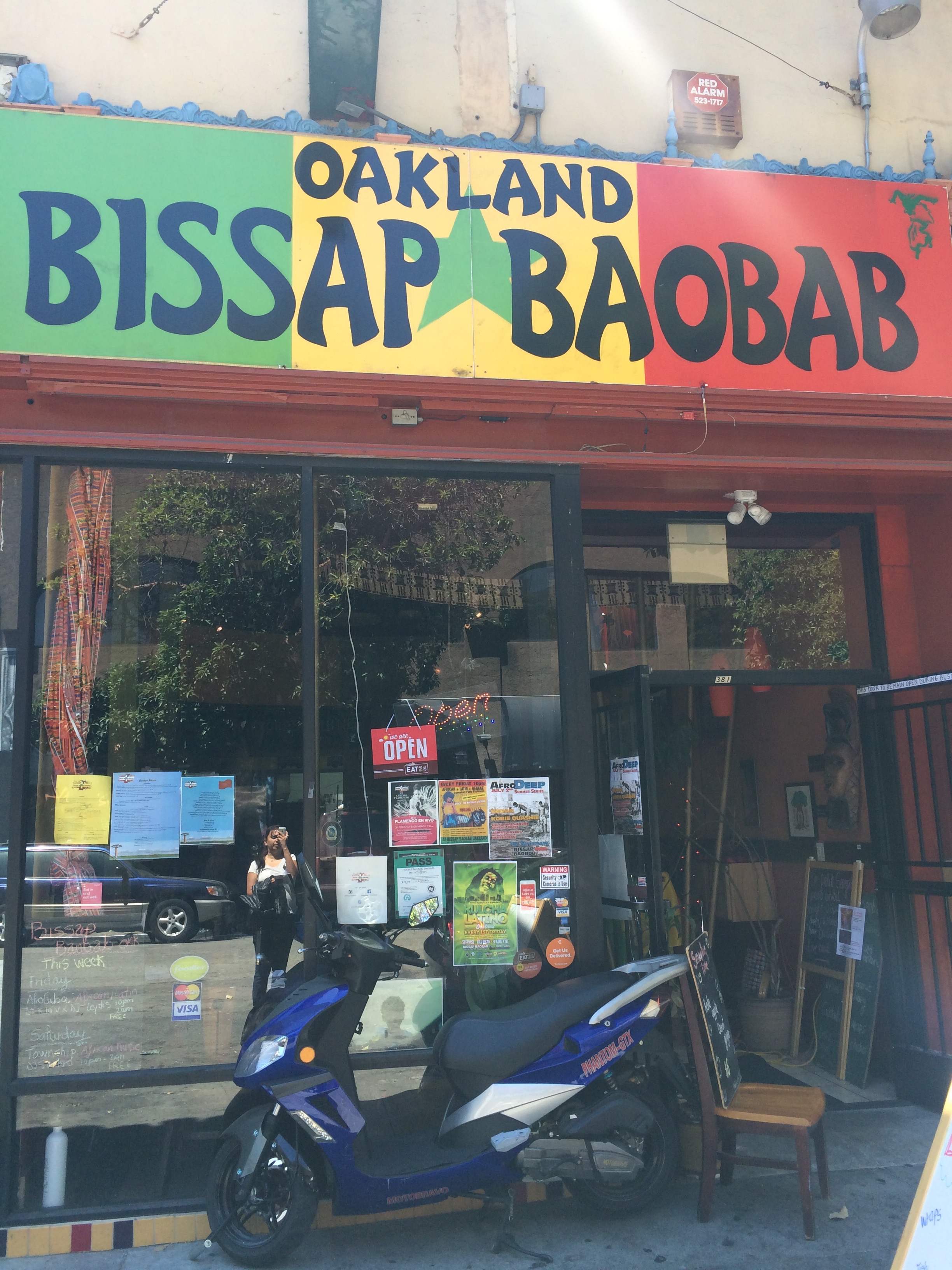 Bissap Baobab Restaurant, Oakland
On a sunny Monday afternoon I was hungry in Oakland and decided to ask the locals where to go. Anna, a local I met while walking down Broadway close to downtown Oakland, recommended I try something very unique – authentic African/Senegalese cuisine and exotic cocktails at >Bissap Baobab! I was certainly intrigued and needed to try it so I grabbed one of the only lunch tables left at this hot spot. The restaurant is bright with fun themed décor reminiscent of Senegal and the atmosphere was lively and full of a lunchtime business crowd. I took one look at the menu and wanted to try everything but the waitress exclaimed "oooh – you can never go wrong with a Yassa chicken wrap" – and I ordered just that! Yassa chicken is marinated in lemon and onions AND red-hot chilies wrapped perfectly in lavash – boy was it yummy! I actually had the option of a buffet style lunch with several dishes including Mafe (peanut stew with vegetables and chicken), Niebe This (black-eyed peas with vegetables and grilled chicken) and Seafood Coco (spicy coconut curry with potatoes and grilled fish). Did I mention that Bissap Baobab also has freshly squeezed juice and turns into a poppin' dance club in the evening?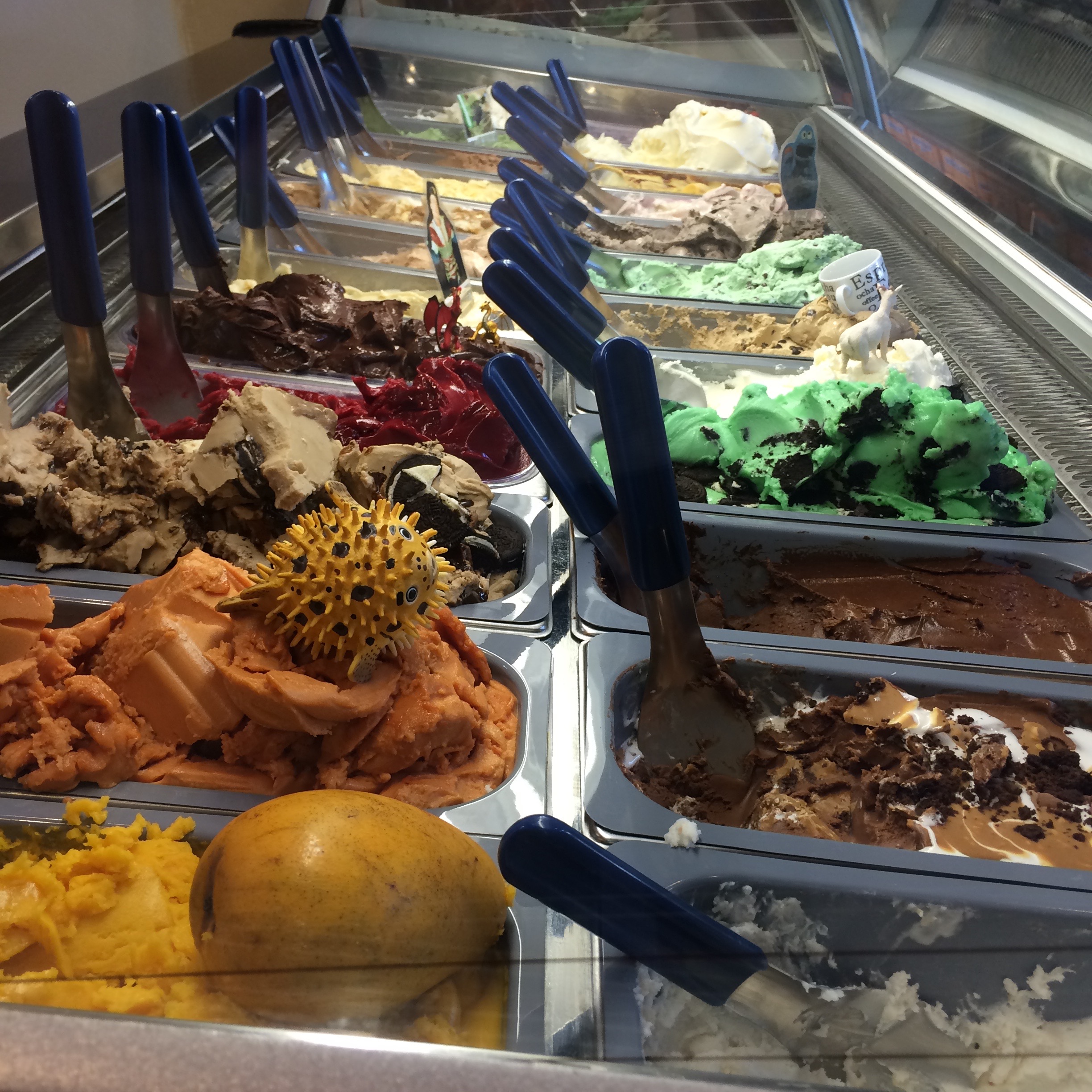 Gelato from Holy Gelato!
Holy Gelato Icecream and Frozen Yogurt, Oakland
Right across from Swan's Market, a famous marketplace right in the heart of downtown Oakland, is Holy Gelato! While this gelato hotspot is exceedingly popular for it's vegan- friendly options in San Francisco (variety of Italian ice cream flavors) it just opened an outpost in Oakland – less crowded and with gelato just as fresh and clean tasting. I ordered a small and was able to get two flavors, raspberry and tiramisu. Raspberry was bright with a deep flavor and was sublime (and vegan!). Tiramisu was rich with a nice coffee flavor. My sweet tooth was very satisfied! Insider tip: Holy Gelato! also has complimentary wifi.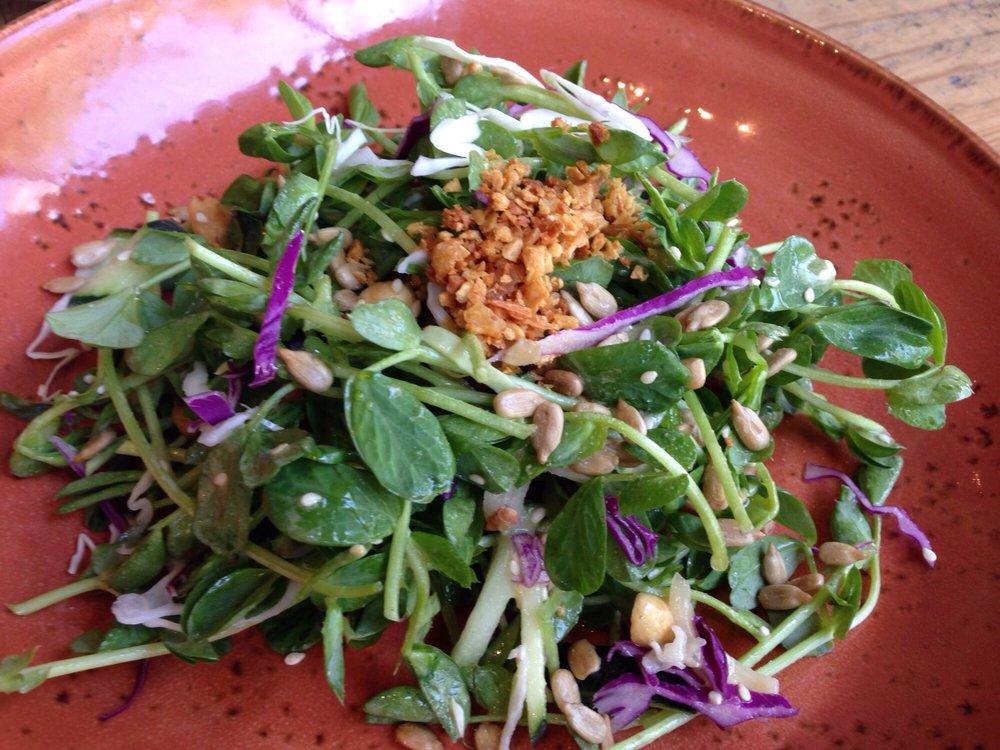 Pea shoot salad from Teni East
Teni East Kitchen, Broadway, Oakland
Teni East Kitchen really is the "new kid in town" at just a few months old on the Oakland dining scene. It bills itself as Asian fusion spot and does a great job of blending Western and Eastern influences. One of the standouts is their Kale Tea-leaf Salad. As Bay Area locals know tea-leaf salad is usually made with romaine lettuce given that it's the most popular menu item at Burmese hot spot, Burma Superstar. At Teni the salad is fresh with many textures and the kale adds more depth than various other forms of greens – I loved it! The pea shoot salad is another winner – light and refreshing with a hint of crunch attributed to peanuts and chickpeas and well seasoned with garlic and lime. Other not-to-be-missed items include sweet potato samosa, Chinese broccoli, Chickpea tofu and cumin pork belly – with just enough bold flavor to still taste a hint of the lime leaves! Teni is definitely a standout restaurant in Oakland!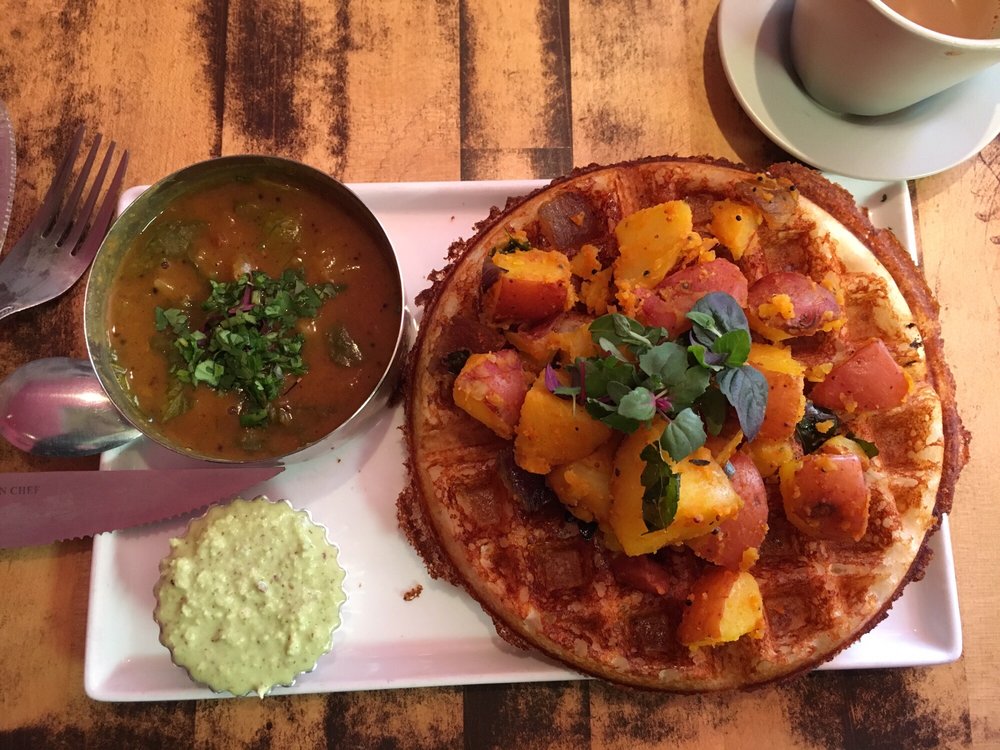 "Classic Doswaffle" (Dosa/waffle) from Juhu Beach Club
Juhu Beach Club Restaurant, Oakland CA
Not many Indian restaurants take risks in the US. Sure Masala Library and Spice Klub in Mumbai take the cuisine to the next level but expect your standard fare at Indian restaurants in the US. However, Juhu Beach Club delivers! Its menu is fresh and innovative – taking the classics and really spinning them! Take for example the "Doswaffle" or "dosa – waffle" – essentially dosa batter stuffed into a waffle iron and where the "classic version" comes with masala potato – very flavorful. The Bhel Salad is also not to be missed and its presentation is key! The puffed rice snack comes in a mason jar (very hipster) with the peanuts, purple potatoes, green chickpeas, nectarines and cutneys layered at the bottom – and of course you get a bowl to mix it all up! It's vegan friendly and a fresh take on something I eat at home in a standard way. Another popular brunch dish is the "Croque Memsahib" (memsahib = married upper-class woman) a different take on the croquet madame. This one includes two fried eggs, chai spiced brown sugar bacon (what!?), jack cheese and tamarind ketchup. Juhu Beach Club is a must visit for anyone who wants to be pleasured by the flavors of Mumbai but with the aesthetics of Oakland.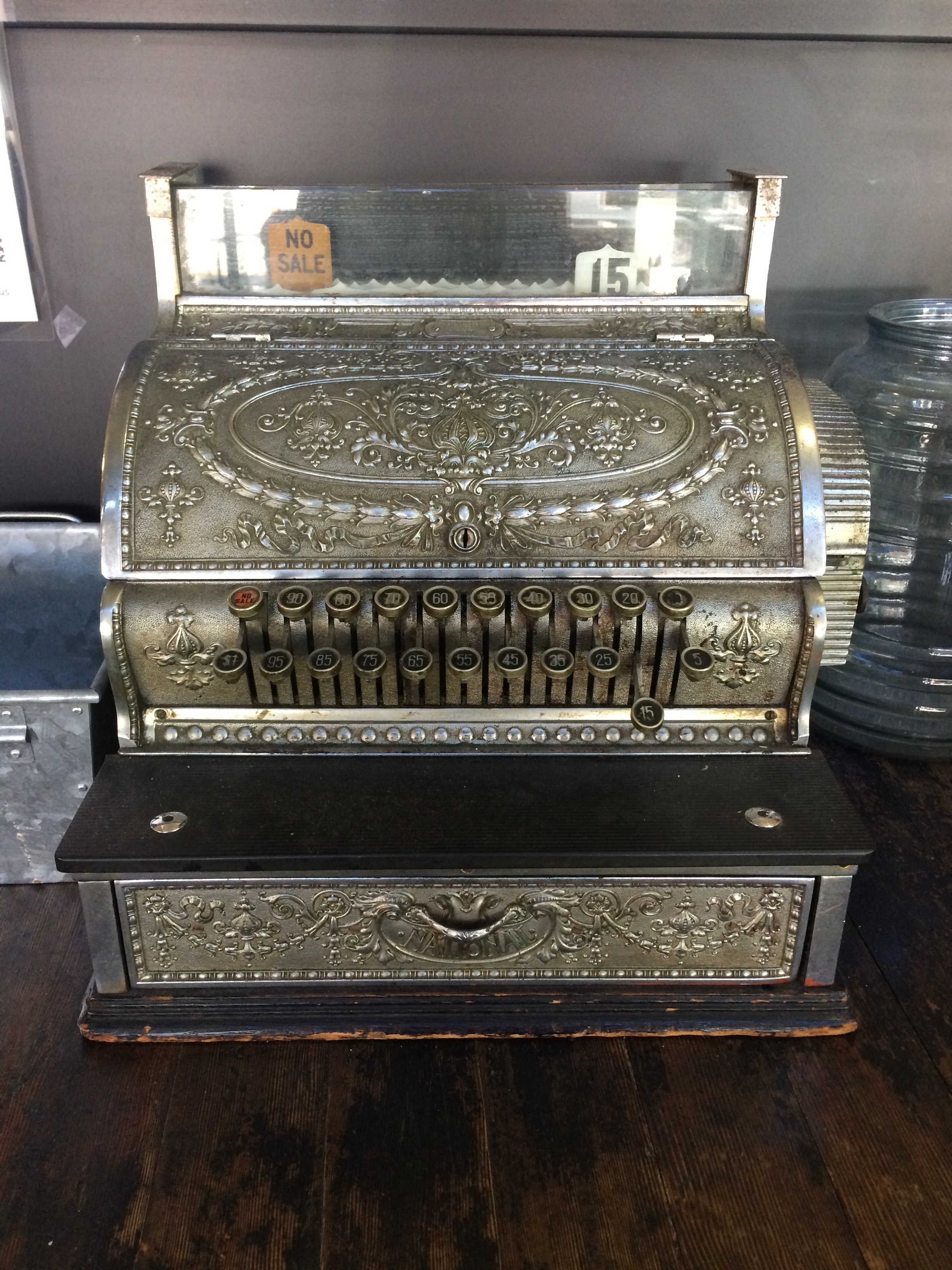 Vintage cash register from Ratto's, Oakland
Why I Will Always Visit Oakland When in the Bay Area
Sure the dining scene in San Francisco is superb BUT Oakland is just as good with more diversity packed per mile. There is heart and soul in the food prepared by Oakland locals who have traveled the far corners of the world to call this great city home. I will be back soon to fulfill the rest of my Oakland dining bucket list!
About The Author
AARTI KANODIA – is the co-founder of Your Local Cousin along with her actual cousin Kunal. She loves to travel and wants everyone to explore the world like a local. Aarti has an MBA from UCLA and a BS in finance from NYU Stern. In her past life Aarti owned a Belgian themed waffle truck, Crispy Waffle & Frite
Source: https://www.yourlocalcousin.com